If you've just moved into a new abode and you feel that something is lacking somewhat…well, maybe you might need to unpack a few boxes. Kidding! But if it still feels like a house rather than a home, there is one simple thing you could do to transform your unwelcoming walls into something more individual – just hangs a few prints and posters. It's that simple. Of course you have to go out and buy picture hooks and frames too, but it's well worth it, trust me. And it doesn't have to cost a fortune – buy a few great value vintage prints online and be smug in your savings glow…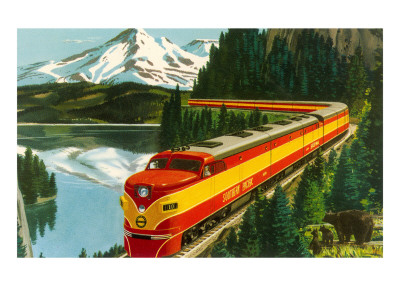 This
AllPosters.co.uk discount voucher
saves you 15% on your order of very vintage pics. I've chosen a couple of striking ones – one classic, one not so much. It's been in the news recently for not the happiest of reasons, but you can celebrate the HMV heyday with this classic 'His Master's Voice' image. And if you want a foreign climbs print with a difference, I've found this 'Train Through Rocky Mountains piece that I adore.
I was lucky enough to inherit a Breakfast at Tiffany's poster from a previous tenant of my flat, but if you've not been blessed like I have, take a look at this
GB Posters free online voucher
that saves you 15% off your…er, posters. They've got the classic Breakfast at Tiffany's image, of course, but also I took a shine to this Clockwork Orange one.
My favourite charity shop find
Next time you do a bit of sightseeing, pick up a few vintage postcards from the museum or gallery gift shop. You can buy basic glass frames for peanuts, so just arrange 4 of them on the wall in a block and hey presto, you've got a bit of vintage wall art! And it goes without saying that charity shops are a must-visit if you're looking for things to put on your bare walls.
Come back next week for some more top online vintage picks…