You might have already guessed that this week's post is all about the winter coat, because it is something that has been very much on my mind recently. I've been wearing the same one for far too long now, partly because I love it so and partly because I've been unable to find anything that can compete with it for my love. And I'm still searching. If you're in the same position, here are a few vintage-look deals that I've dug up…
Now before we mention anything else, let's just ring the emergency ONE DAY ONLY
Marks and Spencer voucher code
klaxon shall we? *rings klaxon*. The voucher code in question gives you 20% off pretty much everything. And the ONE DAY ONLY in question is today, Tuesday 16
th
September 2013. So if you're reading this after that date, many apologies, but keep reading on as you might find something else that suits. In terms of winter coat cravings, there are these two beauties. The
Per Una Italian Fabric Funnel Neck Tweed Belted Jacket
is reduced from £79 to £63 and this
M&S Collection Double Breasted Funnel Neck Coat
is not only a stunning colour, but also just £44 (was £55).
So what about non-emergency winter coat coupon codes then? Good old Joy. You can always rely on Joy, whatever the weather. Although thinking about it, you might not be able to take advantage of this
Joy discount code
that gets you 10% off your first order, because if you've followed all my other Joy recommendations in the past, you'll have ordered from them at least half a dozen times before. Am I right? Anyway, on the off chance you haven't you can get a deal on this gorgeous
Louche Verity Coat
.
Simply Be are well worth a look if you are in possession of beautiful curves because sometimes clothes from other clothes stores don't seem to appreciate to intricacies of the fuller figure. For example, just because you're ordering a size 16, this doesn't mean you have overly long legs or arms too. Get it right other clothing stores! Anyway, back to the coats – this
Simply Be free online voucher
gets you 20% off your entire order, so why not try out this
Spirit and Sands Short Jacket
? (£65 before discount).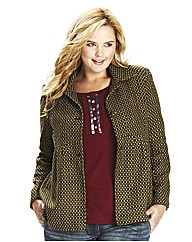 I'm fairly sure I've not mentioned Masdings before but I know not why because they have some lovely stuff. If you're buying for the first time, this
Masdings shopping voucher
saves you 10% on your purchase and I spied this Superdry Avengers Pea Coat that's £105 before reduction.
One last thing this week… everyone loves a freebie and those who don't are telling porkies. Well, I've found this excellent competition that could bag you
£250 worth of vouchers for Mint Velvet
. And if you haven't heard of Mint Velvet, just
take a look at their pretty wares
. So enter without delay to be in with a shot of picking out some of the pretty wares for free.
So until next time, when I'll be sure to bring you something else suitably weather appropriate.