I was originally going to write a post on 1960s clothes in general, but when I found these Missguided voucher codes, Boohoo voucher codes and Oasis voucher codes, I decided to 'shift' focus slightly, as it were. This is because searching for 60s-inspired clothes on high street sites inevitably involves looking at a large selection of shift dresses and I found so many, I decided that this should be a celebration of that particular style. And not just any old shift dresses, but ones that are incredibly good value right now…
First up are a whole set of current
Missguided discount vouchers
to suit big and small spenders alike. You can choose from a Missguided voucher code that saves you £20 off when you spend £100 or more, one that gets you £10 off a £65 spend or one that gets you £5 off when you spend £45 or more. To make up that order why not pick up one of two or three of these 60s look shifts?
Short Sleeve High Neck Rib Shift Dress in White (£25 before discount)
Half Sleeve Shift Dress in Navy/White Diamond (£18 before discount)
Striped T-Shirt Shift Dress in Monochrome (£15 before discount)
Within the same price bracket are current Boohoo voucher codes – you can use this
Boohoo promo code
link to get access to their sale stock or current code discount such as 20% off menswear but today I particularly like their offer that highlights the hundreds of dresses they have available at £15 or under. And you know what's coming next…Yes I searched through all their shift dresses and picked three of my 1960s-look favourites…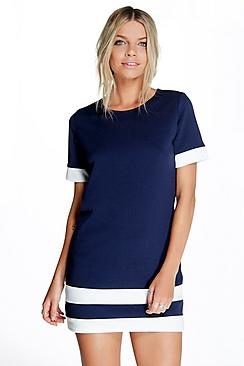 Larissa Stripe Shift Dress (£15)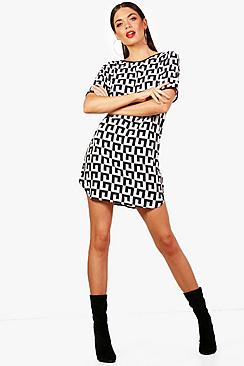 Miley Monochrome Woven Shift Dress (£15)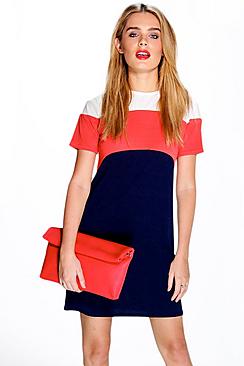 Daniella Colour Block Shift Dress (£15)
You might not necessarily think that Oasis dresses fall into the same price bracket as the above two retailers, but that was before you've seen the current
Oasis voucher codes
, and in particular an Oasis promotional code that gets you an additional 20% discount on sale stock until the end of January. Seriously, this time of the month is the very best time to pick up a bargain – ok, so your choice might be a bit more limited but online retailers love to throw price cut upon price to clear that stock. When it comes to those shift dresses, I managed to dig up these three from their sale items. You're very welcome.
Shift Stripe Dress (was £50, then £20, now £16 with Oasis discount code applied)
Bold Kimono Shift Dress (was £50, then £15, now £12 with Oasis discount code applied)
Textured Scarf Shift Dress (was £50, then £20, now £16 with Oasis discount code applied)
For vintage lovers, it's always easy to find something 60s-inspired on high street sites – just search for shift dresses! And there are always plenty of savings available such as these Oasis, Boohoo and Missguided discount vouchers, as well as already excellent prices.