The latest La Redoute voucher codes, New Look discount vouchers and Miss Selfridge promotional codes show that it's very rare a fashion season goes by without any taking any inspiration from vintage quarters. This is all very well and good but what's the use of new season stock when it's out of your price range? But in the world of online fashion, there are always discounts to be found, and some of your favourite stores are currently offering price cuts on new stock over the Easter weekend (and perhaps for even longer). I've found these three savings as well as a few vintage-look pieces that are well worth getting your hands on, so if you want a break from scoffing all that chocolate in the next few days, why not take a look?
The first discount goes to the top of the savings tree (or Easter equivalent) for two reasons. Firstly this La Redoute promo code gets you a rather astonishing 40% off everything. Yes, that's EVERYTHING including sale stock. Secondly, it's only valid until Monday 28
th
March, so make sure you spend your holiday time wisely by
using this link
to save with this extra special La Redoute discount code. I've found these three retro-look pieces but there are plenty more where they came from…
Les Petits Prix Sleeveless Three-Tone Top (£17 before discount)
Mademoiselle R Striped Cotton Poplin Dress (£29 before discount)
Only A-Line Suedette Skirt (£39 before discount)
There are a lot of pastel shades in this spring, and as you'll be able to see from the following New Look voucher code and Miss Selfridge discount voucher, these stores are very much riding that pastel wave at the moment, using it for both 50s-inspired garments, 70s disco designs and 80s-look pieces. When it comes to savings, the New Look discount code gets you £10 off when you spend £50 or more on your order, and you can get access to it using the link on their
My Favourite Voucher Codes
page. To make up that total and qualify for the saving, why not choose one of these three items?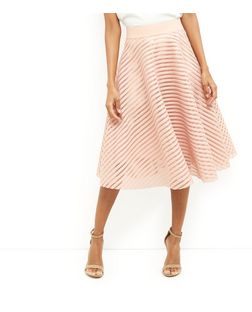 Shell Pink Mesh Stripe Midi Skirt (£27.99 before discount)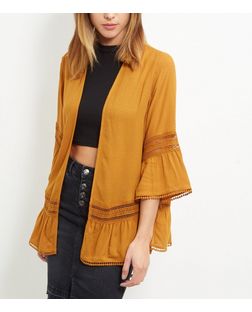 Rust Crochet Trim Flutter Sleeve Kimono (£19.99 before discount)
Pink Cowl Neck Long Sleeve Bodysuit (£17.99 before discount)
And lastly, the Miss Selfridge voucher code I've sourced is especially good if you're a new customer because if you
click here
you can get 15% off your first order before the end of March. As I mentioned earlier, their new spring collection is also rather found of pastels shades in many forms but I particularly approve of the combination of their current 80s bomber jacket revival paired in a lovely subtle pink. Oh, and they're also rather fond of the midi skirt this season too…
Blush Bomber Jacket (£49 before discount)
Bardot Belted Denim Dress (£39 before discount)
Camel Tie Waist Midi Skirt (£35 before discount)
As much fun as there is to be had with chocolate this weekend, think ahead to the rest of spring with these La Redoute promo codes, New Look coupon codes and Miss Selfridge discount vouchers and make sure you inject the vintage touch into your clothes this season.